Lorel is one of the Nine original bears who ruled the Artic. He is the first Teller of Ways, and was David Rain's "link" to the bears in Icefire. He is a desendant of Thoren as all bears are. He was described as wise but not afraid. He told David what became of Gawains fire tear. His modern day desendant is Averl another teller of ways and one of the bears who killed Voss.
Nothing is known of what became of Lorel of who his mate was. Lorel sat on the left hand side of Thoren on a pillar of ice.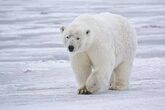 Ad blocker interference detected!
Wikia is a free-to-use site that makes money from advertising. We have a modified experience for viewers using ad blockers

Wikia is not accessible if you've made further modifications. Remove the custom ad blocker rule(s) and the page will load as expected.